What is 'Omics?
'Omics describes a suite of cutting-edge tools used to analyze DNA, RNA, proteins, or metabolites. Many 'Omics approaches are faster, less invasive, and more comprehensive than traditional methods. Advances in 'Omics have revolutionized biological study, benefitting many fields including public health, medicine, agriculture, and conservation. For NOAA, techniques such as high-throughput DNA sequencing and subsequent bioinformatics analyses can be harnessed to benefit a myriad of national priorities including fisheries management, aquaculture development, food and water safety, species and habitat conservation, seafood consumer protection, biodiversity monitoring, and natural products discovery. Continued investment in 'Omics within NOAA will aid operational efficiency, ecosystem assessments and forecasts, and the US Blue Economy.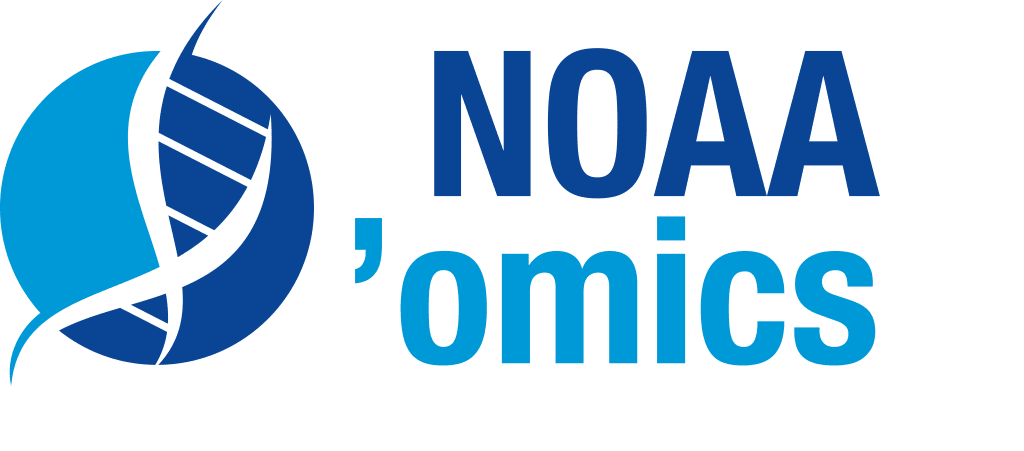 NOAA 'Omics Working Group
The NOAA Omics Working Group (OWG) was established by the NOAA Science Council (NSC) as a cross-NOAA effort to understand the current portfolio of 'omics-related activities across the organization, identify priorities and needs for the future, and work to develop solutions to implementation challenges in this nascent sector of research. Check out how the OWG is advancing 'omics activities across the organization:
NOAA 'Omics Seminar Series
The NOAA 'Omics Seminar Series was established in an effort to increase transparency and collaborations and highlight the groundbreaking 'omics research currently underway within and outside the organization. This seminar series takes place on the third Wednesday of every month at 12pm ET / 9am PT. More information can be found on the NOAA Science Seminar Series webpage.
September 27, 2023 (recording here)
Title: Exploring Ocean Twilight Zone Biodiversity with eDNA
Presenter: Dr. Annette Govindarajan, Research Specialist, Woods Hole Oceanographic Institution
July 19, 2023 (recording here)
Title:  Pairing eDNA with an inshore acoustic survey for Atlantic herring (Clupea harengus): challenges and some promising findings

Presenters:  Graham Sherwood, Senior Research Scientist, Gulf of Maine Research Institute
May 17, 2023 (recording here)
Title: Biosensors of Environmental Change: Linking the Global Marine Microbiome with Ocean Processes
Presenters: Dr. Alyse Larkin, Program Manager, NOAA Global Ocean Monitoring & Observing and the University Corporation for Atmospheric Research Cooperative Programs for the Advancement of Earth System Science (UCAR CPAESS)
April 6, 2023 (recording here)
Title

: Optimizing stony coral tissue loss disease intervention strategies through whole-transcriptome gene expression profiling

Presenters

: Dr. Michael Studivan, Assistant Scientist, University of Miami Cooperative Institute for Marine and Atmospheric Studies (CIMAS) & NOAA Atlantic Oceanographic and Meteorological Laboratory (AOML) & Dr. Joshua Voss, Associate Research Professor and Faculty Chair, Harbor Branch Oceanographic Institute & Florida Atlantic University
March 15, 2023 (recording here)
Title

: Microorganisms and Metabolites as Diagnostic Indicators for Coral Reefs

Presenters

: Dr. Amy Apprill, Associate Scientist and Dr. Elizabeth Kujawinski, Senior Scientist, Woods Hole Oceanographic Institution (WHOI)
March 1, 2023 (recording here)
Title

: Marine fish eDNA Metabarcoding: Promising Developments and Early Applications

Presenters

: Mark Stoeckle, Senior Research Associate and Jesse Ausubel, Director, Program for the Human Environment, The Rockefeller University, New York, NY
February 15, 2023 (recording here)
Title

: Making eDNA Count – Towards Quantitative Metabarcoding

Presenter

: Dr. Zachary Gold, Group Lead, NOAA Pacific Marine Environmental Laboratory (PMEL) 'Omics Program, Seattle, WA
January 18, 2023 (recording here)
Title

: Distribution of apicomplexans in shallow and deep-sea octocorals of the Caribbean and North Atlantic

Presenter

: Akacia Halliday-Isaac, Ph.D. Candidate, Department of Biology, University of Mississippi
December 7, 2022 (recording unavailable)
Title

: Diversity and phylogeny of Chaetopterus (Annelida: Chaetopteridae) and associated macroinvertebrates in Djibouti

Presenter

: Shannon Brown, Lab Manager (Research Scientist), Cooperative Institute for Climate, Ocean, & Ecosystem Studies (CICOES), University of Washington, NOAA's Pacific Marine Environmental Laboratory (PMEL) 'Omics Lab
October 19, 2022 (recording here)
Title

: Metagenomic discovery of microbial and host genetic features of the marine polychaete Sirsoe methanicola colonizing a methane hydrate in the Gulf of Mexico

Presenter

: Dr. Jean Lim, Postdoctoral Scholar, College of Marine Science, University of South Florida
September 21, 2022 (recording here)
Title

: Using metabarcoding to understand microbial communities on aquacultured sugar kelp – identifying the good and the bad players

Presenter

: Dr. Yuan Liu, Molecular Biologist, Contractor with AIS, Inc. in support of NOAA's Northeast Fisheries Science Center
August 19, 2022 (recording here)
Title: Implementing genetics into fisheries management: Case studies in Alaska fisheries

Presenter

: Dr. Ingrid Spies, Research Fisheries Biologist, NOAA Alaska Fisheries Science Center
July 20, 2022 (recording here)
Title: Global marine biodiversity monitoring through partnership and innovation
Presenter: Dr. Luke Thompson, Associate Research Professor, Northern Gulf Institute, Mississippi State University & NOAA's Atlantic Oceanographic and Meteorological Laboratory
July 8, 2022 (recording here)
Title: Using Environmental DNA to Examine Artificial Reef Fish Assemblages: If You Build It Will They Come?
Presenter: Dr. Kyle R. Piller, Edward Schlieder Endowed Professor and Curator of Vertebrates, Southeastern Louisiana University, Department of Biological Sciences, Hammond, LA
Publication: Krolow AD, Geheber AD, Piller KR (2022) If You Build It, Will They Come? An Environmental DNA Assessment of Fish Assemblages on Artificial Reefs in the Northern Gulf of Mexico. Transactions of the American Fisheries Society, 151(3), 297-321. https://doi.org/10.1002/tafs.10352
May 18, 2022 (recording here)
Title: Open Ocean to Octocorals, Oh My!: Applying 'Omics tools to the exploration of remote habitats and species
Presenter: Dr. Meredith Everett, Biologist, NOAA Northwest Fisheries Science Center
March 24, 2022 (recording here)
Title: Deep, dark, and diverse – an exploration of hydrothermal vent plume community composition and function
Presenter: Dr. Matthew Harke, Research Scientist, Gloucester Marine Genomics Institute
March 16, 2022 (recording here)
Title: Measuring the attenuation of marine eDNA in nearshore Alaska
Presenter: Dr. Diana Baetscher, Research Geneticist, NOAA Alaska Fisheries Science Center Auke Bay Laboratories
February 23, 2022 (recording here)
Title: Understanding the genetic mechanisms that facilitate local adaptation in the genomics era
Presenter: Dr. Wes Larson, Genetics Program Manager, NOAA Alaska Fisheries Science Center
Publication: Larson W, Barry P, Dokai W, Maselko J, Olson J, Baetscher D (2021) Leveraging eDNA metabarcoding to characterize nearshore fish communities in Southeast Alaska: Do habitat and tide matter? bioRxiv. https://doi.org/10.1101/2021.10.28.466160
Publication: Larson WA, Limborg MT, McKinney GJ, Schindler DE, Seeb JE, Seeb LW (2017) Genomic islands of divergence linked to ecotypic variation in sockeye salmon. Molecular Ecology, 26(2), 554-570. https://doi.org/10.1111/mec.13933
Publication: Larson WA, Dann TH, Limborg MT, McKinney GJ, Seeb JE, Seeb LW (2019) Parallel signatures of selection at genomic islands of divergence and the major histocompatibility complex in ecotypes of sockeye salmon across Alaska. Molecular Ecology, 28(9), 2254-2271. https://doi.org/10.1111/mec.15082
Publication: Shi Y, Bouska KL, McKinney GJ, Dokai W, Bartels A, McPhee MV, Larson WA (2021) Gene flow influences the genomic architecture of local adaptation in six riverine fish species. BioRxiv. https://doi.org/10.1111/mec.16317
January 19, 2022 (recording here)
Title: Combating the Stony Coral Tissue Loss Disease (SCTLD) outbreak using 'omics
Presenter: Dr. Michael Studivan, Assistant Scientist, NOAA/OAR Atlantic Oceanographic and Meteorological Laboratory (AOML), Cooperative Institute for Marine and Atmospheric Studies (CIMAS), University of Miami, Miami, FL
Publication: Studivan MS, Rossin AM, Rubin E, Soderberg N, Holstein DM, Enochs IC (2022) Reef Sediments Can Act As a Stony Coral Tissue Loss Disease Vector. Frontiers in Marine Science, 2046. https://doi.org/10.3389/fmars.2021.815698
Title: An 'omics approach to multi-stressor resilience in the threatened coral, Acropora cervicornis
Presenter: Dr. Ana Palacio-Castro, NRC Postdoctoral Researcher, NOAA/OAR Atlantic Oceanographic and Meteorological Laboratory (AOML)
Publication: Palacio-Castro AM, Dennison CE, Rosales SM, Baker AC (2021) Variation in susceptibility among three Caribbean coral species and their algal symbionts indicates the threatened staghorn coral, Acropora cervicornis, is particularly susceptible to elevated nutrients and heat stress. Coral Reefs, 40(5), 1601-1613. https://doi.org/10.1007/s00338-021-02159-x
December 15, 2021 (recording here)
Title: Environmental DNA and RNA for advanced management and accurate surveillance of aquatic invasive species
Presenter: Dr. Subba Rao Chaganti, Assistant Research Scientist, Cooperative Institute for Great Lakes Research, University of Michigan
Publication: Marshall NT, Vanderploeg HA, Chaganti SR (2021) Environmental (e) RNA advances the reliability of eDNA by predicting its age. Scientific Reports 11, 2769 (2021). https://doi.org/10.1038/s41598-021-82205-4
November 17, 2021 (recording here)
Title: Connecting microbes, phytoplankton, and oceanography in the California Current with eDNA and metagenomes
Presenter: Dr. Nastassia Patin, Postdoctoral Research, NOAA/OAR Atlantic Oceanographic and Meteorological Laboratory (AOML), Cooperative Institute for Marine and Atmospheric Studies (CIMAS), University of Miami, Miami, FL. Stationed at NOAA/NMFS, Southwest Fisheries Science Center, La Jolla, CA
Publication: Truelove NK, Patin NV, Min M, Pitz KJ, Preston CM, Yamahara KM, Zhang Y, Raanan BY, Kieft B, Hobson B, Thompson LR, Goodwin KD, Chavez FP (2022) Expanding the temporal and spatial scales of environmental DNA research with autonomous sampling. Environmental DNA, 00, 1– 13. https://doi.org/10.1002/edn3.299
October 29, 2021 (recording here)
Title: Fishing for eDNA: how much water to catch and other questions
Presenters: Jesse Ausubel, Director, Program for the Human Environmental, The Rockefeller University and Dr. Mark Stoeckle, Senior Research Associate, Program for the Human Environment, The Rockefeller University
Publication: Stoeckle MY, Adolf J, Ausubel JH, Charlop-Powers Z, Dunton KJ, Hinks G (2022) Current laboratory protocols for detecting fish species with environmental DNA optimize sensitivity and reproducibility, especially for more abundant populations. ICES Journal of Marine Science. https://doi.org/10.1093/icesjms/fsab273
October 20, 2021 (recording here)
Title: Evaluation of the role of inversion polymorphisms in the evolution of sympatric intraspecific diversity: a theoretical and empirical study
Presenter: Sara Schaal, Ph.D. Candidate, Northeastern University
September 15, 2021 (recording here)
Title: Environmental DNA provides quantitative and efficient estimates of hake abundance and distribution in support of fisheries management
Presenter: Dr. Ole Shelton, Research Ecologist, NOAA Northwest Fisheries Science Center
Publication: Shelton AO, Ramón-Laca A, Wells A, Clemons J, Chu D, Feist BE, Kelly RP, Parker-Stetter SL, Thomas R, Nichols KM, Park L (2022) Environmental DNA provides quantitative estimates of Pacific hake abundance and distribution in the open ocean. Proceedings of the Royal Society B, 289(1971), 20212613. https://doi.org/10.1098/rspb.2021.2613
August 18, 2021 (recording here)
Title: The utility of 'Omics in environmental forecasting
Presenter: Dr. Anderson Mayfield, Assistant Scientist, University of Miami's Cooperative Institute of Marine and Atmospheric Studies and NOAA's Atlantic Oceanographic and Meteorological Program
Publication: Mayfield AB, Aguilar C, Kolodziej G, Enochs IC, Manzello DP (2021) Shotgun Proteomic Analysis of Thermally Challenged Reef Corals. Frontiers in Marine Science, 547. https://doi.org/10.3389/fmars.2021.660153
Title: Molecular mechanisms of coral persistence within urbanized locations in Port of Miami
Presenter: Dr. Ewelina Rubin, Senior Research Associate II, University of Miami's Cooperative Institute of Marine and Atmospheric Studies and NOAA's Atlantic Oceanographic and Meteorological Program
Publication: Rubin ET, Enochs IC, Foord C, Mayfield AB, Kolodziej G, Basden I, Manzello DP (2021) Molecular mechanisms of coral persistence within highly urbanized locations in the Port of Miami, Florida. Frontiers in Marine Science, 936. https://doi.org/10.3389/fmars.2021.695236
July 21, 2021 (recording here)
Title: Omics as a tool for exploring bacterial networks: a coral disease case study
Presenter(s): Dr. Rebecca Certner, Competition Manager, NOAA National Sea Grant Office and Dr. Sara Williams, Postdoc, Mote Marine Laboratory
Publication: Certner RH, Vollmer SV (2018) Inhibiting bacterial quorum sensing arrests coral disease development and disease‐associated microbes. Environmental microbiology, 20(2), 645-657. https://doi.org/10.1111/1462-2920.13991
Title: Omics identifies strong population differentiation and the underlying genomic architecture in lingcod (Ophiodon elongatus)
Presenter: Dr. Gary Longo, NRC Research Associate, NOAA Northwest Fisheries Science Center
Publication: Longo GC, Lam L, Basnett B, Samhouri J, Hamilton S, Andrews K, Williams G, Goetz G, McClure M, Nichols KM (2020) Strong population differentiation in lingcod (Ophiodon elongatus) is driven by a small portion of the genome. Evolutionary applications, 13(10), 2536-2554. https://doi.org/10.1111/eva.13037
June 16, 2021 (recording unavailable)
Title: Using 'Omics to identify obligate, beneficial, and transient microbes in marine foundation species
Presenter: Dr. Sarah Gignoux-Wolfsohn, Ecologist, Smithsonian Environmental Research Center